You've selected Belize as your retirement and/or vacation destination, it's time to secure airline reservations and determine just how you're going to spend your time in the beauty and splendor of this Central American paradise. And, you've decided your pet will accompany you to Belize (of course!).
If your pet has international travel experience, you likely know there exist a multitude of requirements specific to each destination and airline. If this is the first time your pet will venture outside the U.S., you'll learn together that front-end preparation goes a long way.
Listed below you will find the steps you need to take to ensure your pet makes it into Belize with you.
Check Airline Requirements
Pets must enter Belize via Philip S.W. Goldson International Airport in Ladyville, which serves the Belize City area. Begin by checking your airline's website for pet requirements/restrictions. Each airline provides specific instructions for your pet's travel, and you want to follow these instructions with precision. Be certain you understand the requirements for:
securing an in-cabin reservation
size and structure of carriers (note: cabin and checked differ)
animal limit per flight
need for copy of health and rabies certificates
heat/cold restrictions (time of year)
The USDA requires pets to be at least eight weeks of age to travel, and most airlines have some breed-specific requirements as well. For instance, United Airlines requires, among other things, your Boston Terrier's kennel be one size larger than usual and that you provide water but not food in the kennel during the flight. Regarding kennels, American Airlines does not allow, among other things, checked kennels to have plastic doors or to weigh more than 100 lbs/45kg, including the pet and contents.
Again, get to know the specific requirements/restrictions imposed by your airline. Be sure to check the airline's website and print a copy to carry with you as backup. Relying on a telephone conversation with an agent is not a good idea.
Obtain Import Permit
Applications for an Import Permit can be submitted to any Belize Agricultural Health Authority (BAHA) office. Allow a minimum of seven days to acquire this permit. When the application is submitted via FAX, it will be stamped Pay Upon Entry (BZ$75 = $50 entry fee + $25 port inspection). Remember, your pet will be inspected only at the port of entry named on the permit, and that port of entry needs to be Philip S.W. Goldson International Airport in Ladyville, regardless of your final destination within Belize.
Please note: Issuance of an import permit does not guarantee entry into Belize.
Schedule With Your Veterinarian
Notify your vet as soon as possible regarding your plans. You want to make sure your pet meets travel requirements and is healthy enough to travel with you. Once you know the basics and are prepared to move forward with your planning, you'll need to schedule an appointment close to your departure date.
BAHA requires you have an international veterinary health certificate issued by a USDA accredited veterinarian within 14 days of travel (American Airlines requires a health certificate to be issued within 10 days of travel, so again, be sure you're familiar with your airline's requirements).
For international pet travel, the following vaccinations are highly recommended:
Dogs – Distemper, Hepatitis, Leptospirosis, and Parvovirus
Cats – Feline Viral Rhinotracheitis, Calici Virus, and Panleucopaenia
All Pets – treatment of Endoparasites and Ectoparasites within thirty (30) days of exportation
For entry into Belize you also need the following:
valid rabies certification issued not less than one month or more than one year before your travel date. Note: If your pet has not been vaccinated for rabies, she will remain in home confinement in Belize until three months of age, at which time she is to be vaccinated by a registered veterinarian. She will then be required to remain confined for an additional 30 days.
ticks and tapeworm treatment within 30 days of entering Belize
statement that pet is free from ehrlichiosis (tick-borne diseases)
Remember, all pets undergo quarantine inspection at the port of entry, so don't be surprised by this inspection.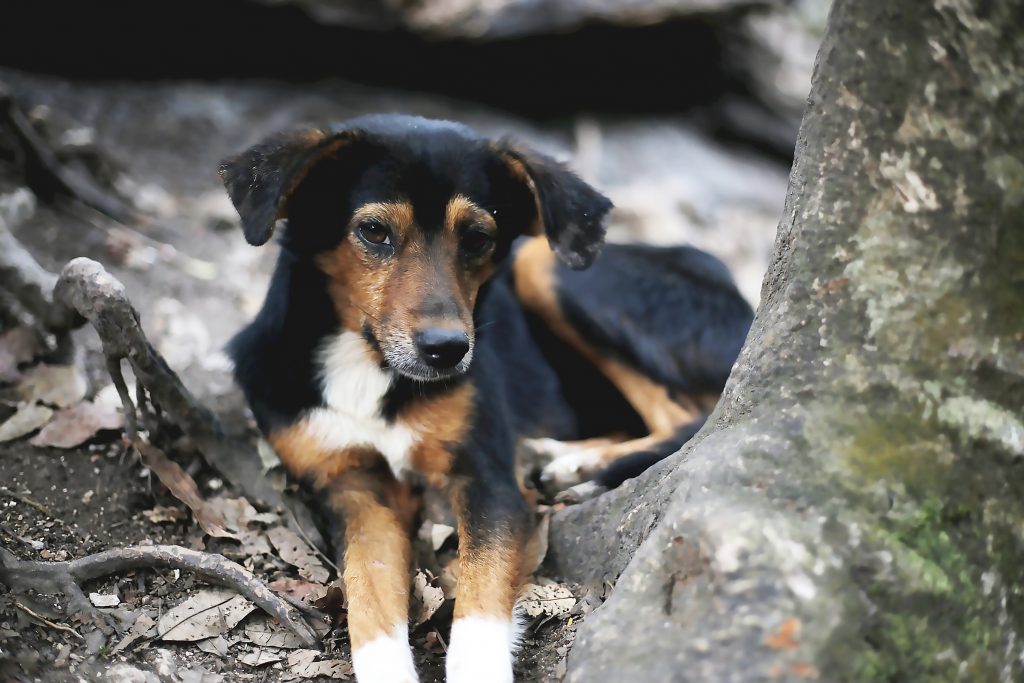 This dog made it!
Prepare Kennel
As travel time draws nearer, you'll want to prepare your pet's kennel. If the kennel is not new, it needs to be cleaned and sanitized. Double check with your airline for size, structure, labeling, and food and water requirements for your pet's breed. This step, like the others, is critical for your pet's acceptance by the airline and BAHA.
Contact BAHA
Finally, you will need to contact BAHA two days before your arrival. You must provide your date, time and flight number to ensure a BAHA official is present when you arrive. Again, ALL animals require an inspection, and once you've arrived at the airport, you'll want to get out and about as soon as possible. Following instructions and guidelines will ensure your pet arrives safely and smoothly, creating a fabulous start to what will be an amazing experience in beautiful Belize.
How We Can Help
Wrobel & Co. is here to help. From the moment you decide to bring your pet to Belize until three years after your four-legged member of the family has settled in, we will assist you in making your pet's relocation/vacation as smooth as possible.  This includes customized assistance with all preparations and paperwork, as well as sending a staff member to personally escort your pet through the entry process, so if there's a problem at quarantine, we will be there to help solve it. Interested in multiple visits for your pet? No problem we can assist with that as well
For more information, please contact us.
Helpful links
American Airlines
United Airlines
Delta Airlines
Interested in retiring or relocating in Belize?  Contact Wrobel & Co, Attorneys-at-Law, and we'll get you started on your Belize retirement or relocation journey today.
To learn more about retirement in Belize, visit our Belize Retirement FAQ page here.