We spoke with Macarena Rose, founder of Rainforest Realty in Belize and host of HGTV's House Hunters International! She shared the challenges of setting up a business in Belize and tips to get a toucan to visit your home.
Wrobel & Co: When did you move to Belize and why did you choose to move here?
Macarena Rose: I moved to Belize in 2004 to share the opportunity with my teenage daughter to see life more simply. The fact that Belize is English speaking, made this possible for her to move with me, and be able to attend local school here.
W & C: You own a real estate business, what was the process like for setting up a business in Belize?
MR: The process to open a business in 2004 was a bit challenging. I recommend using a well-versed lawyer, like of course Mr. Wrobel, and hiring an accountant to keep you compliant. I see folks who think they have it all figured out and try to do it on their own only to have to go back and do it all over, correctly. It is a foreign country, and I ask people to remember to not leave their brain at the border. The best advice, is to do as you would do, in the country you are moving from.
W & C: Were you a real estate agent before you relocated to Belize or did you sell homes back in Florida, too?
MR: I do have my Florida Realtor's license, and my mother has been a broker since I was a child, however, real estate in Belize is quite different for sure! I always recommend using a professional with a lot of experience here! I also recommend using a buyer's agent, as this is the missing key. Listings you see on websites are represented by agents for the sellers, a buyer needs their own representative. Worth a note, I am an accredited buyer's agent with the National Association of Realtors. This was the main reason I felt inspired to bring the largest real estate franchise in the world by agent count here Keller Williams Belize. As they believe that they give where you live, a high standard of ethics.
W & C: What are the major differences as it relates to real estate transactions in Florida and Belize?
MR: USA based real estate transactions have many levels of compliance and diligence, things are able to be verified more readily online and there are actual systems to compile a market analysis. Here in Belize, to even think of knowing the value of what something should sell for, you must have many years of being a party to sales, to have legitimate values as to offerings. Mainly, as there are no public records to search what properties sold for in the area or the past.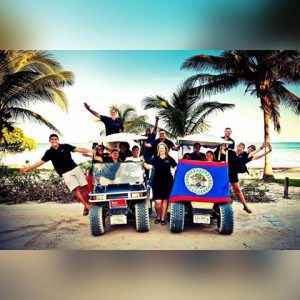 W & C: As a real estate agent, which places are most in demand in Belize and why?
MR: There are two main types of properties in demand in Belize: condos and businesses. Condos are in demand, as many buyers see the value of being able to rent their place out and garner income when they are not using them. At the same time, they can have personal use of the property while in Belize.
Businesses are the second option, whether it is a resort, restaurant, cafe or a farm. As when one moves to Belize, many people wish to have something to do, besides the fact of getting to earn money while living in paradise!
W & C: Favorite animal in Belize?
MR: My favorite animal in Belize is the toucan. Here in the Cayo District they are abundant, and they always make me smile. It fascinates me that they do not topple over with those massive beaks of theirs! It is easy to have toucans come and visit your home, you just need a food source for them such as a papaya tree or trumpet tree (which is names that, as it is hollow inside like a trumpet).
W & C: Favorite drink in Belize?
MR: Sorrel juice ( actually any of our fresh juices ! )
W & C: Favorite time of year in Belize and why?
MR: I love Christmas in Belize! People paint their homes outside and change their flooring (which we call Marley here and is similar to linoleum, however not glued down). It is as though people clean up inside and out to get ready for the holidays! Actually, any celebration here in Belize is terrific, as there are parades, music, street vendors and other festivities!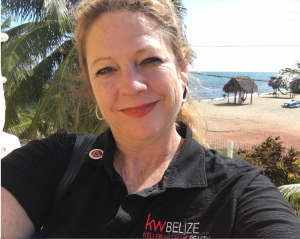 W & C: Where is your favorite place in Belize and why?
MR: Gosh, with the jungle, Mayan Temples, caves, rivers and the Barrier Reef… that needs to instead be what are my favorite six places!
W & C: Where can people go to learn more about you and what you do?
MR: There are two places one is www.RainforestRealty.com and my YouTube Channel which has interviews with locals and expats https://www.youtube.com/user/BelizeMacarena
W & C: Can you elaborate on your interactions with Wrobel & Co., and more specifically, our managing partner Ryan Wrobel? Do you feel that our office has anything to offer your clients/guests?
MR: I met attorney Wrobel at an international conference where we spoke many years ago. I remember he kept to himself, and as I am very outgoing, I went and introduced myself to him. From the start, I was aware that he had a gentle manner with lots of expertise and wisdom. Being that he is from the USA as I am, and is licensed there, and yet, lives in Belize, and is licensed here as a lawyer, I am able to recommend my clients to him due to his complete vision of how best to help them. Just as important as that is, my clients feedback is that Mr. Wrobel, and his office are very diligent, communicative and efficient. This is the same experience I always have had also with him and his office, and it is a pleasure to refer someone, who cares as much for my clients, as I do.
W & C: Thank you for that! Final question: what are some of the amazing things living in Belize has afforded you?
MR: I have found Belize to be the opportunity to connect to where I live. Some examples are: I had lived here for two months, and was invited to dinner with a friend, who brought along Said Musa (who was Prime Minister at the time!); I have been the Realtor for HGTV's House Hunters International seven times, and getting ready to film again for them, been able to see where our donations have gone; been the voice on the local cell phones service – telling you when you run out of credit; been able to put children through school and University; been blessed to interview the First Lady several times for Belize Talk Radio Show as to the terrific Inspiration Center for special needs children, and have seen first hand how a smile and a little help can make a world of change for families right in front of you! I challenge you if you want a life worth living, that is fully present, take a look at Belize!
---
Interested in relocating to Belize as Macarena did?  Contact Wrobel & Co, Attorneys-at-Law, and we'll get you started on your Belize retirement or relocation journey today.
To learn more about retirement in Belize, visit our Belize Retirement FAQ page here.
---
This information was provided as a courtesy of Wrobel & Co. Attorneys-at-law. It is intended to inform, not to advise. No one should try to interpret or apply any law without the assistance of legal counsel. Please click here for the full disclaimer.