I recently took the direct flight from Los Angeles to Belize City with my 9-month-old baby, and it was painless! The plane departed on a Friday at midnight (11:59 pm) and landed in Belize City the next day at 5:36 in the morning. The trip was less than five hours long. 
After flying into the Philip S.W. Goldson International Airport half a dozen times, I had zero trepidation about checking into immigration, finding my luggage, and getting out of there. I've been to several airports around the world, and BZE is quick and effortless. Maybe it's because it's small and there are only three or four carousels. 
For the avid traveler, you might ask, but have you been to the Changi airport in Singapore? Yes, I have! A few times, actually. There's so much you can do with the time to kill in Changi like getting a free foot massage, visiting a botanical garden, and lounging around the MTV room. But, there's also plenty to do at BZE. 
You can fill up on Marie Sharpe's Habanero sauce. They have a travel size, medium, and large size. If you're not heading to the US, you can stock up on Flaming Hot Cheetos. If you're in the mood for Belizean food, there's plenty of Belizean meat pies, and you can order the national dish at the airport: stew chicken, rice, side of potato salad, and sweet plantain. Feel like having a drink? The new Beliken bar has you covered.
After that, you can pick up some Belizean souvenirs like those bottle openers you can hang on your refrigerator. 
I purchased a few meat pies for the plane ride and shared it with my girl. The airport staff are especially friendly if you have a baby in your arms.
The direct flight between Los Angeles and Belize is operated by American Airlines and runs once a week. As Belize becomes an ever-growing popular destination for North Americans, more and more airlines have added direct flights. 
Take a screenshot of the handy infographic we created. Have you taken any of these flights? Share your experience in the comments below.
Yours,
Jane Diaz
Learn more about me here.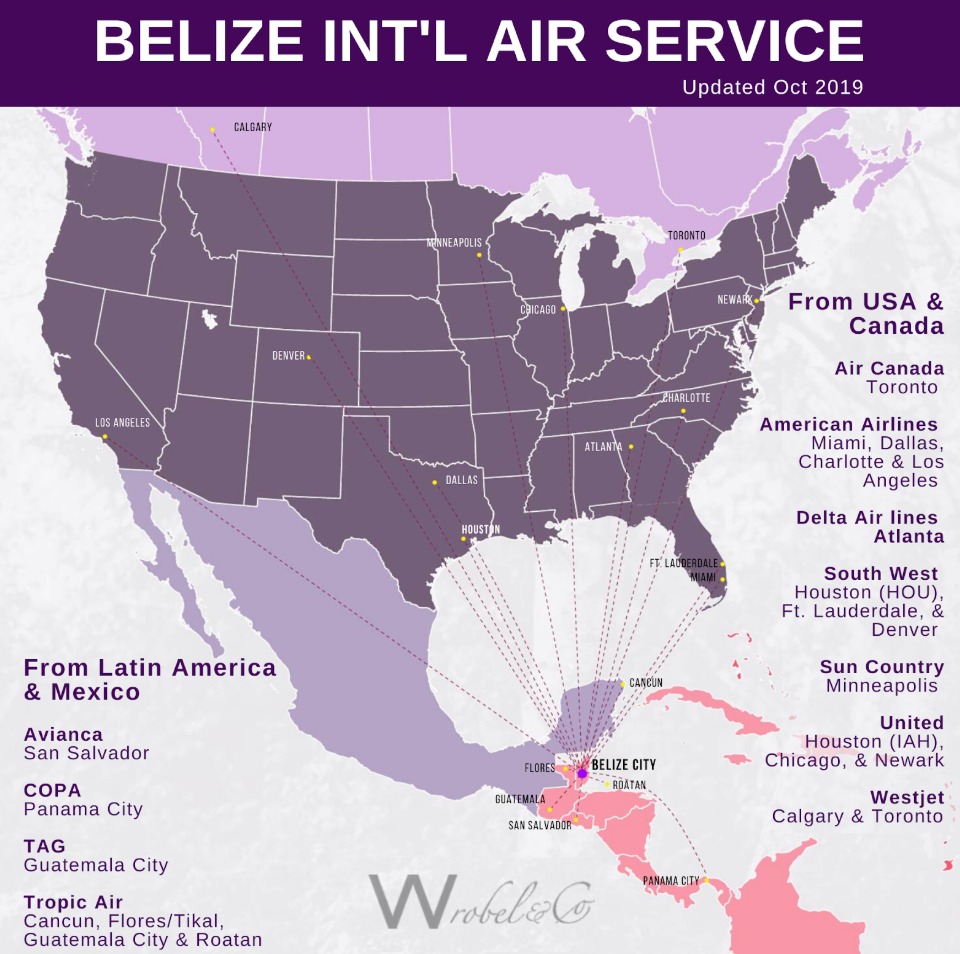 ---
This information was provided as a courtesy of Wrobel & Co. Attorneys-at-law. It is intended to inform, not to advise. No one should try to interpret or apply any law without the assistance of legal counsel. Please click here for the full disclaimer.